Gospel Reflection for the Feast of the Ascension of the Lord
By Br Michael Moore OMI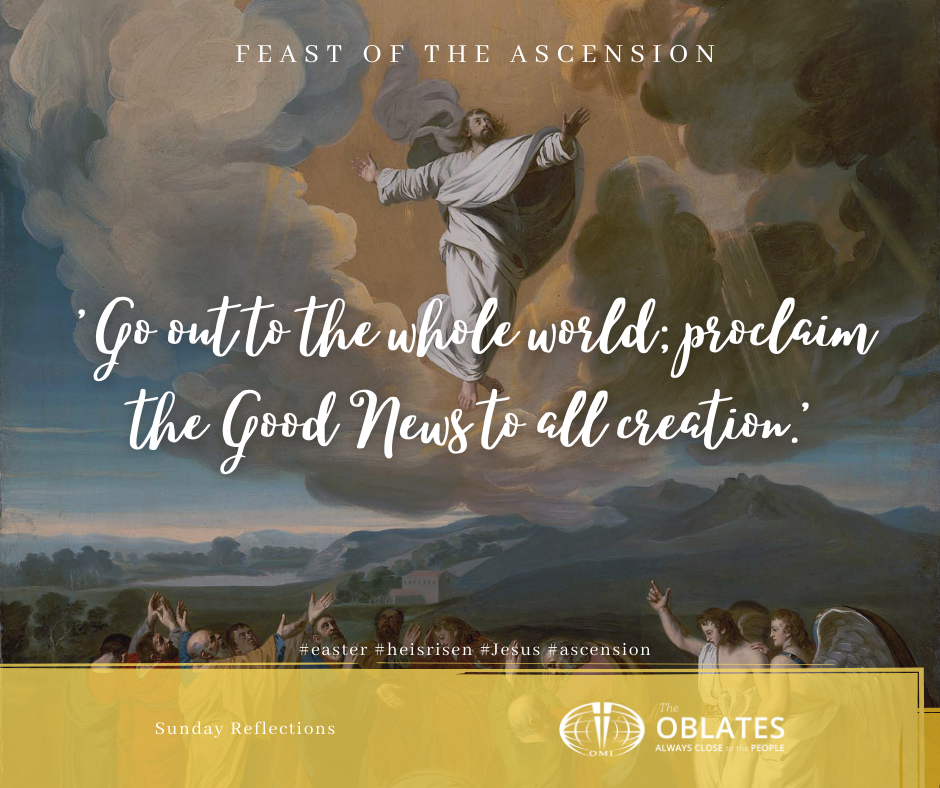 The end and the beginning
While in some places, the Feast of the Ascension will be celebrated this coming Sunday, in more places it is being marked today, so in honour of the Feast we offer the following reflection.
The saying nothing good lasts forever might be a good way to start reflecting on the Feast of the Ascension and the gospel for today. With his Ascension, the earthly mission of Jesus comes to an end; he has through his life, death and resurrection accomplished the plan and will of God. The Kingdom of God has begun. We can imagine the sadness of Jesus' friends as he prepares to leave them. It marks the start of the time when they have to live without him being physically with them. They now have to realise that he will never eat pray or walk with them as he use to; that time is over. He is gone. However, there is another side to his departure.  As this part of Jesus' life ends, he now passes his mission onto his friends and followers. While Jesus' earthly ministry ends, theirs is just beginning. One chapter of Jesus' life is ending and another is just beginning. The gospel makes this very clear. Jesus says to his followers; 'Go out to the whole world; proclaim the Good News to all creation.' As Jesus leaves them, he also at the same time passes on the huge responsibility of carrying on the work of proclaiming the Kingdom of God. And this is what they did; 'after Jesus had spoken to them, he was taken up into heaven… while they going out preached everywhere, the Lord working with them.'
This ordinary group of men and women are the ones who were chosen by Jesus to be the witnesses of the resurrection. Through their words and actions the world and the whole of creation will know that Jesus is alive and more present than ever he was. As Jesus' life and ministry end, theirs begins.
There is always the danger that we think of the men and women who knew Jesus as being different from us – they weren't. We are just like them in so many ways. Today the responsibility of carrying on Jesus' ministry of building God's Kingdom is now ours. Today and every day, Jesus says to you and I, 'Go out to the whole world; proclaim the Good News to all creation.' The first followers of Jesus are our ancestors and we are their descendants. It is now up to each of us as best we can, each in our way to carry on the mission of Jesus. Through us, the quality of our daily lives, ours words and our actions the world will know that Jesus is alive, present and active in our world. Let us not be afraid of the words preaching or proclaiming. Tradition tells us that St. Francis said this; we must do all we can to preach the Good News of the gospel, and if we have to, we will have to use words.
Even though these days during this Easter season, we celebrate the Ascension of Jesus, he has not left, deserted or abandoned us. He is with us when we pray for each other and when we hear the scriptures proclaimed. He is with us when we share his Body and Blood together. He is with us when reach out to care for and support each other. He is with us when we do our best each day to live our lives as his followers and disciples. Just as Jesus was with and working with his first followers, so too today Jesus is with and working with each of us today.
| Gospel – Feast of the Ascension | Mark 16:15-20 © |
| --- | --- |

Go out to the whole world; proclaim the Good News

Jesus showed himself to the Eleven and said to them:

  'Go out to the whole world; proclaim the Good News to all creation. He who believes and is baptised will be saved; he who does not believe will be condemned. These are the signs that will be associated with believers: in my name they will cast out devils; they will have the gift of tongues; they will pick up snakes in their hands, and be unharmed should they drink deadly poison; they will lay their hands on the sick, who will recover.'

  And so the Lord Jesus, after he had spoken to them, was taken up into heaven: there at the right hand of God he took his place, while they, going out, preached everywhere, the Lord working with them and confirming the

 
---
Related
Prayer Intentions
Weekly Reflections