Lourdes Pilgrimage 2020
Below, you will find all the Oblate Lourdes Pilgrimage 2020 package options . Whether you're travelling from Ireland or the UK, as an assisted pilgrim, general pilgrim, or volunteer, we are sure you will find a package that suits your needs and budget.
This year's pilgrimage will take place from the 19th-24th of September. We will participate in all the large Pilgrimage events at least once during our time in Lourdes, including:
• Mass at the Grotto/Grotto tour
• Torchlight Procession
• Blessed Sacrament Procession
• Stations of the Cross
• Visit to the baths
• Mass of Anointing of the Sick
• Sacrament of Reconciliation
As a pilgrimage, we will also have daily Mass, and plenty of opportunity for relaxing, renewing old friendships and shopping. There will also be plenty of time to make your own pilgrimage- whether you want to light a candle, spend some quiet time in prayer at the Grotto, or walk in the footsteps of the child Bernadette…
For more information on the Pilgrimage and to book online, please click here.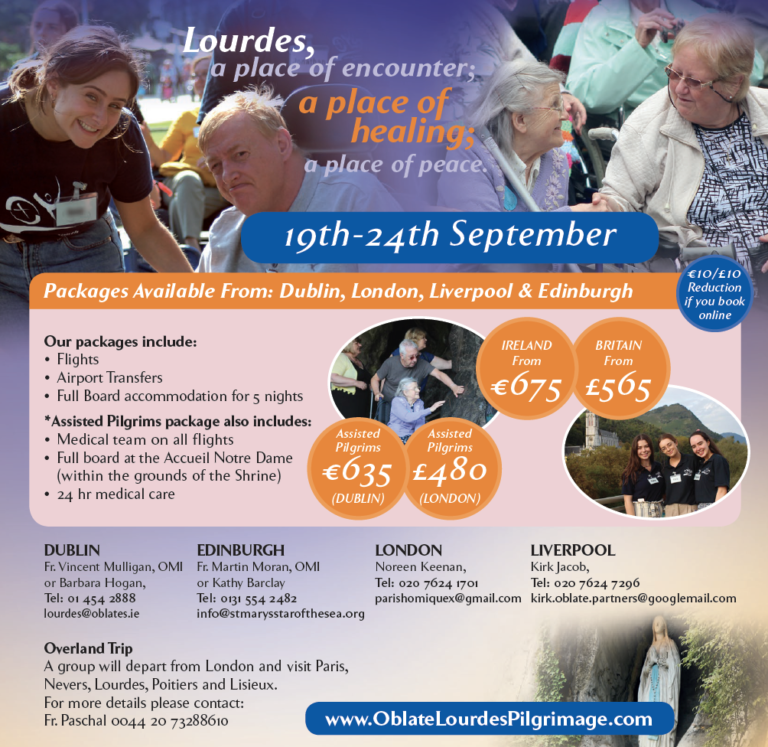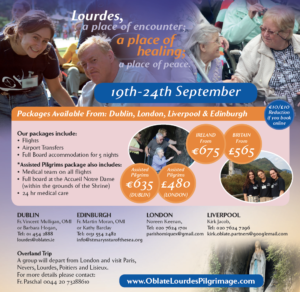 Visit www.oblatelourdespilgrimage.com for more information.
See our youtube channel for videos on the Oblate Lourdes Pilgrimage