Sunday September 13th 2020: Read Br Michael's Gospel Reflection
The 24th Sunday in Ordinary Time
Forgive from the heart.
Last Sunday Jesus offered us a way of dealing with conflict and misunderstanding; we are to go to those whom we have hurt or who have hurt us and work out our differences as best we can. Today this theme and message of forgiveness continues. Peter asks Jesus, 'Lord how often must I forgive those who wrong me, as often as seven times?' Jesus answered, 'Not seven, but seventy-seven times.' In other words, there is no limit to the amount of times that we are to offer forgiveness. To illustrate this Jesus tells a parable.
A king calls in one of his servants who owes him a vast amount of money which he simply will never be able to repay. He falls at the feet of the king and asks for time so he can pay his debts. The king is moved with pity; he pardons the servants debt and lets him go. The king is as the psalm tells us, filled compassion and love, slow to anger and rich in mercy. As the servant leaves, he himself meets another servant who him a very small amount of money. He too asks for mercy, using the same plea the servant used with the king, 'Give me time and I will repay you.' He refused; he had him thrown into prison until the debt was fully paid. The others servants told the king what they had seen. Calling the servant back in, the king asked why when he was forgiven, had he not treated his fellow servants with same compassion and mercy; 'I cancelled your debt… were you not bound to show mercy to your fellow servant as I had pity on you?'
Often the parables of Jesus need some work to figure their meaning; this is not one of them! This story is simple but profound and very challenging. The lesson for us today could not be any clearer or demanding. We who have experienced God's love and forgiveness are to forgive others – it's that simple. It is in the Our Father that this gospel is found: 'forgive us as we forgive those…' We receive God's pardon and forgiveness freely without question or limit and we are asked to share this forgiveness with others graciously, freely and without question.
All it takes for me to hurt or harm another person is one small careless word or one small act of selfishness. It is angry words and deeds that are the true weapons of destruction, not bombs or guns. On the other hand, all it takes is one small word of support or one small act of kindness and generosity to heal and help another person. Words like 'sorry' and 'I accept your apology' can go a long way to mend and heal a broken friendship. 
This is not to suggest or imply that forgiveness or reconciliation is easy at all. Some hurts and wounds are so deep that the journey to healing and reconciliation is a long and winding road and not the work of a single moment. But it is a journey work starting and taking. 
The great mystery of forgiveness is that the more we share it – give it away, as it were, the more it grows and spreads. But it does require a very determined decision on our part; we need to want to forgive the other person and we are called to take at least one small step as we reach out and as the gospel tells us – forgive our brother and sister from our heart.
Today, slowly pray these words; Lord, forgive us as we forgive those who hurt us.
– Br Michael Moore OMI
To be forgiven, you must forgive
Peter went up to Jesus and said, 'Lord, how often must I forgive my brother if he wrongs me? As often as seven times?' Jesus answered, 'Not seven, I tell you, but seventy-seven times.
  'And so the kingdom of heaven may be compared to a king who decided to settle his accounts with his servants. When the reckoning began, they brought him a man who owed ten thousand talents; but he had no means of paying, so his master gave orders that he should be sold, together with his wife and children and all his possessions, to meet the debt. At this, the servant threw himself down at his master's feet. "Give me time" he said "and I will pay the whole sum." And the servant's master felt so sorry for him that he let him go and cancelled the debt. Now as this servant went out, he happened to meet a fellow servant who owed him one hundred denarii; and he seized him by the throat and began to throttle him. "Pay what you owe me" he said. His fellow servant fell at his feet and implored him, saying, "Give me time and I will pay you." But the other would not agree; on the contrary, he had him thrown into prison till he should pay the debt. His fellow servants were deeply distressed when they saw what had happened, and they went to their master and reported the whole affair to him. Then the master sent for him. "You wicked servant," he said "I cancelled all that debt of yours when you appealed to me. Were you not bound, then, to have pity on your fellow servant just as I had pity on you?" And in his anger the master handed him over to the torturers till he should pay all his debt. And that is how my heavenly Father will deal with you unless you each forgive your brother from your heart.'
---
Have you signed up for our mailing list?
Each day, we email out a short thought for the day based on a piece of scripture from the day's mass. 
Our community also streams live short morning and night prayer, daily mass and rosary. Sign up to our email list to stay connected.
Each Sunday, we send the Sunday Gospel Reflection straight to your inbox. 
Sign up here:
https://oblates.ie/e-newsletter/ 
We'd like to take this opportunity to tell you that starting on the evening of Saturday, September 19 and finishing on Wednesday 23rd, we will be hosting a 'virtual' Lourdes Pilgrimage. As you will know, because of Covid-19, the pilgrimage had to be postponed for 2020. 
Based on the theme, "Bringing Lourdes Home" we will use these few days to prayerfully bring Lourdes into our hearts.
Click here for more information: https://oblates.ie/virtual-lourdes-pilgrimage-2020/
We invite you to send your petitions for the pilgrimage, either to lourdes@oblates.ie or to the Mission Office, Oblate House of Retreat, Tyrconnell Road, Inchicore, DUBLIN 8, or for those of you in the UK you can send them to the Oblate Retreat Centre, Wistaston Hall, 89 Broughton Ln, Crewe CW2 8JS, UK. We will send more details soon on how you can join with us for these special days.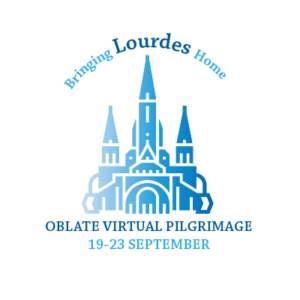 Related
Prayer Intentions
Weekly Reflections