Sunday September 20th 2020: Read Br Michael's Gospel Reflection
The 25th Sunday in Ordinary Time
All are equal in God's eyes
Jesus spoke to and taught people through stories; parables. A parable is story that is not as obvious as it first looks. It may take several readings before its message and meaning is revealed to us. A parable is often described as a story with the wrong ending; or at least not the ending we were expecting! A parable is also like a mirror into which we are invited to look so that we can see ourselves – if we have the courage to do so. The gospel today contains one such parable that might challenge us – if we let it. 
A landowner hires workers at the start of the day to work in his vineyard and agrees their pay with them. Later in the morning and for the rest of the day he hires more workers and also agrees their wages for their work. He even hires people at sunset at the very end of the working day. When the time comes for all the workers to be paid the fun starts; those who arrived last and worked the least are paid exactly the same as those who were hired first and worked the longest! One can imagine the outrage and anger of the workers, but the landowner stands by his original promise and pays them the agreed amount. He says to them all 'Have I no right to do what I like with my own. Why be envious because I am generous?' 
This strange parable is not about labour laws or workers rights; it is about the bountiful generosity of God. Perhaps like me in my relationship with God and when I pray, you too are demanding. While I like to believe that my prayer is genuine, I often say, it's not fair, I want, I need or I deserve. The danger in this is that I think I deserve better treatment from God than others. This parable is echoed in the Prodigal Son. On the return of the younger son, the older one becomes angry and jealous because he feels he is being treated unfairly and unjustly. Yet the father loves both equally and is generous with both. 
Perhaps like the first hired workers and the older son, I too become angry and jealous when I feel that God's decisions and choices differ from mine. Perhaps this challenging parable reminds us of what God says; 'My thoughts are not like yours and my ways are different from yours.' (Is. 55.8). 
If God is generous, loving and merciful to me, who am I grumble when God treats others similarly? If I resent God's generosity to show mercy to whom God pleases, not only do I behave like those in the gospel, but I also forget that in my own daily life that I have been enriched by God's love and mercy towards me. In the Our Father, Jesus reminds us to ask only for our 'daily bread' – enough for that day! We are not meant to ask for nor look for more than we need. Can we trust in God's own generosity and abundance to provide for and give us what we need today and when we ask for it, what we will need for the following day?
God's generosity towards us and mercy for us have no limits or boundaries; God's care will provide what is enough, what is satisfying, for each. Loved as we are by God personally, we are called to rejoice in his kindness and concern, which is both given to us personally and to everyone else.
As Psalm 103 reminds us, 'The Lord is merciful and loving, slow to anger and full of constant love…God does not treat us as we deserve or repay us according to our sins.'
– Br Michael Moore OMI
Why be envious because I am generous?
Jesus said to his disciples: 'The kingdom of heaven is like a landowner going out at daybreak to hire workers for his vineyard. He made an agreement with the workers for one denarius a day, and sent them to his vineyard. Going out at about the third hour he saw others standing idle in the market place and said to them, "You go to my vineyard too and I will give you a fair wage." So they went. At about the sixth hour and again at about the ninth hour, he went out and did the same. Then at about the eleventh hour he went out and found more men standing round, and he said to them, "Why have you been standing here idle all day?" "Because no one has hired us" they answered. He said to them, "You go into my vineyard too." In the evening, the owner of the vineyard said to his bailiff, "Call the workers and pay them their wages, starting with the last arrivals and ending with the first." So those who were hired at about the eleventh hour came forward and received one denarius each. When the first came, they expected to get more, but they too received one denarius each. They took it, but grumbled at the landowner. "The men who came last" they said "have done only one hour, and you have treated them the same as us, though we have done a heavy day's work in all the heat." He answered one of them and said, "My friend, I am not being unjust to you; did we not agree on one denarius? Take your earnings and go. I choose to pay the last comer as much as I pay you. Have I no right to do what I like with my own? Why be envious because I am generous?" Thus the last will be first, and the first, last.'
---
Have you signed up for our mailing list?
Each day, we email out a short thought for the day based on a piece of scripture from the day's mass. 
Our community also streams live short morning and night prayer, daily mass and rosary. Sign up to our email list to stay connected.
Each Sunday, we send the Sunday Gospel Reflection straight to your inbox. 
Sign up here:
https://oblates.ie/e-newsletter/ 
We'd like to take this opportunity to tell you that starting on the evening of Saturday, September 19 and finishing on Wednesday 23rd, we will be hosting a 'virtual' Lourdes Pilgrimage. As you will know, because of Covid-19, the pilgrimage had to be postponed for 2020. 
Based on the theme, "Bringing Lourdes Home" we will use these few days to prayerfully bring Lourdes into our hearts.
Click here for more information: https://oblates.ie/virtual-lourdes-pilgrimage-2020/
We invite you to send your petitions for the pilgrimage, either to lourdes@oblates.ie or to the Mission Office, Oblate House of Retreat, Tyrconnell Road, Inchicore, DUBLIN 8, or for those of you in the UK you can send them to the Oblate Retreat Centre, Wistaston Hall, 89 Broughton Ln, Crewe CW2 8JS, UK. We will send more details soon on how you can join with us for these special days.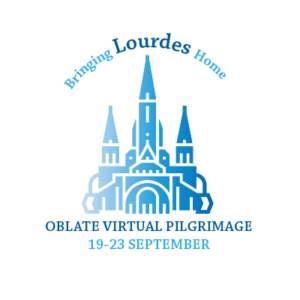 Related
Prayer Intentions
Weekly Reflections