Oblate News
The Porch Project
A Christmas Dinner in Kilburn
A big thank you to everyone involved in this wonderful project!
"The Porch Project in Kilburn cooked and served a fabulous Christmas Dinner to our Guests on December 22. A large number of volunteers brought food to the table and we catered for 24 people. It was a lovely evening. As the guests left they were each provided with a gift bag containing a wooly hat, gloves and a scarf and a set of toiletries. After the Guests left the volunteers sat around and shared their reflections on the past four months and prepared for our re-opening in January."
– Fr Terry Murray, Kilburn 
Read more about the Porch here.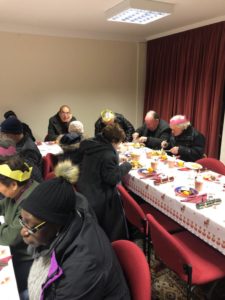 Related