Headlines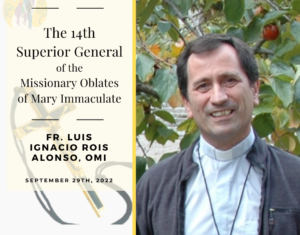 14th Superior General of the Congregation elected
Praised be Jesus Christ and Mary Immaculate! Friends, just this morning the 14th Superior General of the Missionary Oblates of Mary Immaculate was chosen: Fr. Luis Ignacio Rois Alonso, OMI.  
read more
Oblate Pilgrimage to Lourdes 2022
Watch back: Pilgrimage events from Lourdes 2022 Day 1 – Saturday September 17th Day 2 – Sunday September 18th Day 3 – Monday September 19th Day 4 – Tuesday September 20th Day 5 – Wednesday September 21st Day 1 Events: Opening Ceremony Saturday 17th September 7.45pm (Irish/UK time) was streamed live here: https://www.youtube.com/LourdesWebTV Dear friends,...
read more